New windows for your home or commercial property are a great investment. You'll want to make sure you are choosing the right replacement windows for your property while considering your budget.
At Doors Etc, we strive to carry a large selection of vinyl windows, aluminum windows, wood windows and fiberglass windows. We offer Free Quotes to help you decide on the perfect windows for your project!
Replacement Windows.
Vinyl Windows
Aluminum Windows
Wood Windows
Fiberglass Windows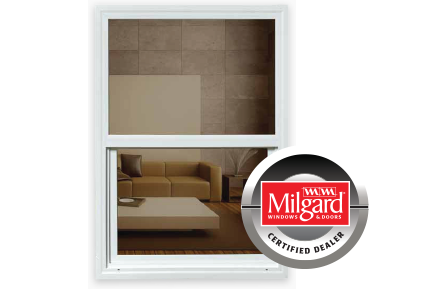 Vinyl frames are made primarily from polyvinyl chloride (PVC). This material has many advantages, including being virtually maintenance-free. There will be differences in the quality of one manufacturer's vinyl compared to another. This is because a vinyl frame is made from a compound—a recipe of sorts—that dictates its performance over time. Each additive to a company's vinyl recipe helps determine the long-term characteristics of the final product, like its weather and impact resistance. For example, titanium dioxide makes the vinyl more heat resistant. At first glance, competing windows may look the same, but there can be key differences in the vinyl recipe used and how vinyl parts are formed to make a window structurally strong and optimize insulation performance.
At Doors Etc, we are proud to carry a huge array of incredibly high quality vinyl windows available in a variety of styles. For more information on our products and to get a project bid for your vinyl window installation, don't hesitate to get in touch with one of our highly knowledgeable and certified staff members today.
For years, wood has been a readily available window substrate, and the most common choice for homes. It could be painted a solid color or stained and sealed to show off the wood grain. Wood is also strong and easy to work with, is a natural insulator and complements many forms of architecture.
Compared to vinyl and fiberglass, wood frames require more maintenance. Regular sealing, staining or painting is needed to prolong the beauty and performance of the window or door. Frequent touchups and the occasional refurbishing, sanding and applying new coats is almost always required.
Advantages of Wood Frames:
– Warmth of solid wood grains
– Paintable
– Excellent insulating properties
Innovative Engineering
Essence Series windows use a newly engineered mulling system that more securely connects multiple units, creating a tight seal and protecting against air and water infiltration. The systems also allows for windows in combinations.
Essence Series windows exceed industry residential standards for air and water filtration and forced entry, protecting your home against the elements and helping keep your family safe.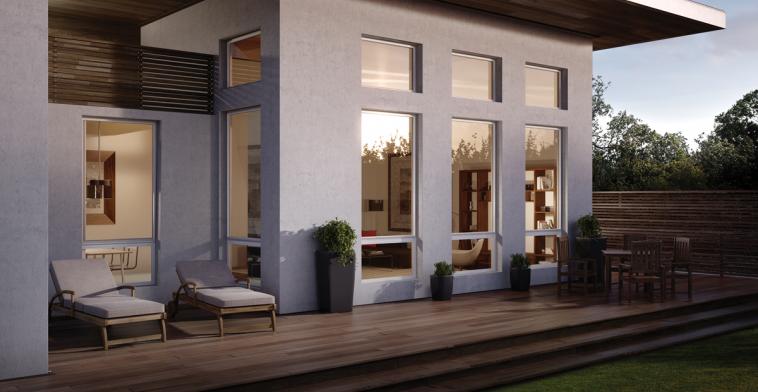 Light yet strong, aluminum windows and doors can be configured into a wide variety of combinations. The narrowness of the frame places the focus on the glass and subsequently, the view it offers. Multi-panel door systems are often made with aluminum frames to facilitate indoor/outdoor living. Milgard aluminum frames are available in anodized or baked-on finishes for long lasting color. Sealed, mechanically joined corners stay square and true over years of use.
Aluminum is not recommended in beach homes for while the material is water resistant, it can suffer corrosion from salt water and salt air. The corrosion affects hardware operation and frame performance.
Milgard Aluminum Frame Colors
Milgard aluminum windows come in four beautiful frame colors to coordinate with your home design. Choose a clean, white finish or opt for a darker frame to emphasize the window shape.

A Frame for all Seasons
Ultra™ & WoodClad™ Series windows and patio doors stay true through almost any environment. Because it's made from glass fibers, the frame expands and contracts at approximately the same rate as the insulated glass it holds. This puts less stress on the seals, reduces the chance for seal failure while allowing for a clear, fog-free view.

The dimensional stability of Ultra™ Series fiberglass windows make it a popular choice for high humidity and high heat environments, such as bathrooms and kitchens. A WoodClad™ Series option offers you the beautiful look of wood veneer on the interior without the need for sanding and repainting.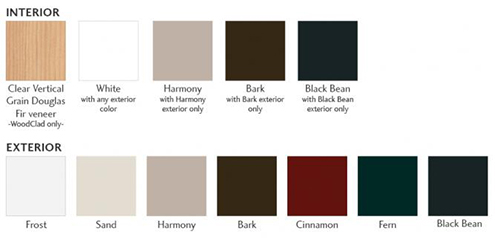 Milgard Ultra™ & WoodClad™ Series fiberglass window frames come in a palette of rich, designer colors. From warm 'harmony' to bold 'black bean', get inspired with all the possibilities.
Add warmth with a Clear Vertical Grain Douglas Fir veneer option on WoodClad™ Series windows.