Doors, Etc. believes your Entry should be the focal point of your homes exterior. Commonly known as the handshake to your home™, your entry way should be beautiful and inviting.
With so many options available, which is the right door for you? Some things to consider:
Do you have a single door or double door? Create a whole new look by making your double doors a single door with two sidelites
What kind of exposure do your doors get? If your entry is exposed to the elements, come talk to one of our experienced project managers about potential solutions.
Do you want Glass in your new door? A designer or leaded glass is an instant way to brighten your entryway. With the options available, you can still maintain your privacy and security.
Do you like a natural wood look or do you prefer a painted finish? Whether you prefer a traditional or modern look, our available finish options can compliment any color palette.
What is the architectural style of your house? From craftsman to ranch; contemporary to Mediterranean, Doors, Etc will help you choose the right Entry for your home.
Budget We have a door for every budget. Make sure you are well aware of the energy efficiency, maintenance requirements, and life expectancy of the door you are selecting. All those things impact the long-term cost of maintaining your entryway.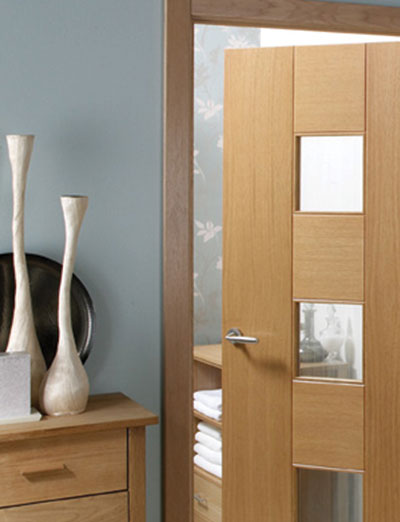 Entry doors provide beauty and style while offering utility and security. At Doors Etv, we strive to carry a huge selection of incredible entry doors to complement and enhance the beauty of your home both inside and out.
Our professional and incredibly knowledgeable staff will assist you in selecting the very best entry door to suit your wants, needs and appearance of your home. For more information on our entry door speak to one of our experienced project managers about your upcoming project.
When you purchase an entry or patio door from Therma-Tru, you can rest assured knowing that you've purchased a high quality, beautiful product that was built to last.
Design
Attention to detail and unparalleled performance are just a few of the reasons Doors Etc is the industry standard in excellence and design.
Enjoy the best of indoor-outdoor living with Milgard's Bi-Fold Moving Glass Walls. Up to six panels can be added to a Bi-Fold Glass Wall for a beautiful, distinct design. All aluminum frames and panels are thermally broken with a full weather-stripped structural interlock system for improved energy efficiency.
Milgard Bi-Fold Glass Walls are designed with a water barrier sill to help provide protection from water penetration. The 1.5″ interior leg helps keep water from entering inside the home and the back leg penetrates the track for additional protection against exterior elements.
Design
MILGARD® Moving Glass Wall Systems beautifully integrate with the other Milgard windows and patio doors in your home. Choose from several stock finishes including white, black anodized aluminum and wood clad (clear vertical grain Douglas Fir and Pine).
The hardware is also available in the same finishes as you windows to provide a complete, unified look for your vision.
Milgard Moving Glass Wall Systems include a Limited Warranty for materials and workmanship to homeowners and commercial purchasers. At the purchaser's choosing, Milgard will provide replacement parts necessary to make repairs, without charge, or refund the purchase price of any Moving Glass Wall Systems found to be defective in materials or workmanship during the applicable warranty period.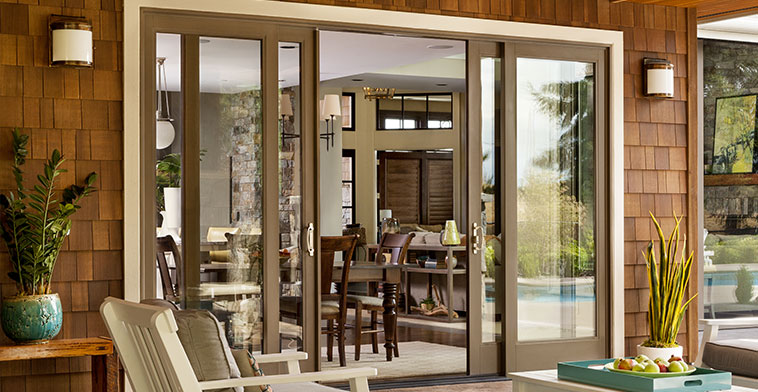 Create an impressive entrance to your home with beautiful, high-quality patio doors from Milgard in your choice of styles and frames.
Essence Series® Patio Doors
Available in French swinging, with or without operable sidelites, and French-style sliding door models. Essence Series doors are available in 16 designer exterior colors and custom built to your size and specifications.
Milgard Essence In-Swing and Out-Swing patio doors feature designer hardware, a multi-point locking system and operable sidelites. The new Essence Sliding patio door feature a secondary lock option to allow the door to vent in a secure position.
Timeless Design and Exceptional Quality
Design coordination is easy with Milgard Essence Series. Essence Series® patio doors are available in the same hardware finishes as Essence Series® windows. Further match to suit your style with the same color palette for interior and exterior frames.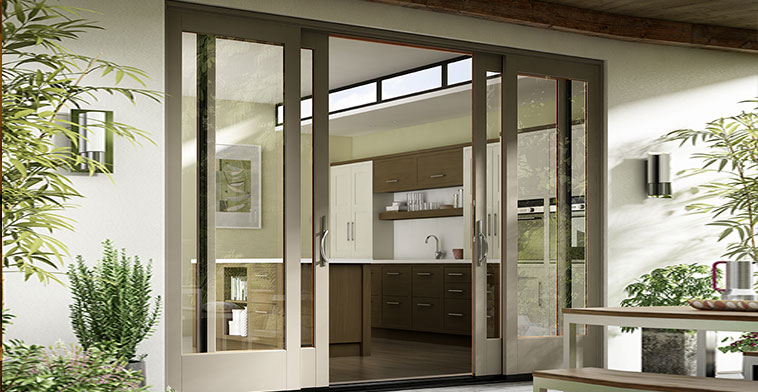 Designed to perfectly complement the rich, warm wood interiors of Essence windows, the new Essence Series sliding patio door is built with solid wood and a durable fiberglass exterior. Not only is it beautiful, but you will enjoy the smooth operation and superior performance for years to come. And like Essence windows, this new patio door is backed by the Milgard Full Lifetime Warranty including Glass Breakage Coverage. Explore more benefits of the new Essence Series Sliding Patio Door here.
Fiberglass exterior available in 16 powder-coated colors.
Interior solid wood frame with no visible fasteners.
Engineered with quality rollers that provide an impressively smooth and quiet operation.
Superior energy performance with SunCoat® Low-e glass coating.
Optional screen that is top-hung for smooth operation to minimize jams.
Make it your own with grids, decorative glass or expand your view with transoms.
The beautiful door handle comes in seven finishes and with an optional exterior keyed lock.
Add the optional SmartTouch® bolt for additional points of security on the door or to secure it in a vented position.